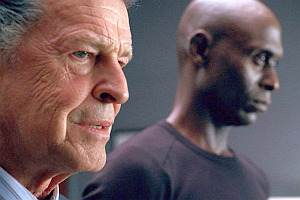 Phillip Broyles is one of my favorite characters onFringe, but like most anyone who isn't part of the core trio of heroes, he's underused. That's not a mark against the show, necessarily, but more of a mark toward actor Lance Reddick, who is one of the best character actors on television. His turn as Cedric Daniels in HBO's The Wire is still my favorite, but he also made an enigmatic impression with his role as Matthew Abaddon on LOST,  who still remains one of the show's absolute strangest characters.
But right now, Reddick is concentrating on Fringe, and I am absolutely fine with that. Both versions of the Broyles we see on the show are fascinating characters. But here's the interesting thing: aside from the altered accent, there isn't much of a difference between the two that we've seen, yet. The two are, unlike other characters over the universal divide, strikingly similar. It's an interesting dynamic to show that despite all the changes to the external environment, some people will remain exactly the same. But how does this play into what Broyles will choose to do with the impending Olivia crisis? Well, Reddick let a bit of a spoiler slip that may cause some fans to fist-pump with delight.
To Read More Click Here.