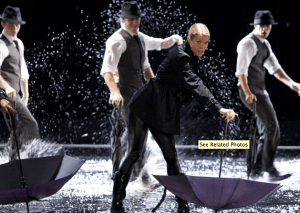 I don't ever want to see another episode of Gleewhere Mr. Shue and/or the kids complain that they don't have enough money to travel to Sectionals or any other competition.  If that happens, I will end up shouting "then maybe you people should lay off on renting the rain machines for your big end-of-show production numbers!" at my screen.
As you know, Gwyneth Paltrow made a guest appearance on last night's episode of Glee.  I think a lot of people liked her turn as a substitute teacher.  I found her character to be enjoyable, but I still can't really figured out whether or not I liked the episode.  In any event, she should be applauded for the amount of effort she put into her performances.  FOX has released a video with the full performance of the mash-up of "Umbrella" and "Singin' in the Rain" that came at the end of the episode.  While the two songs don't really fit together seemlessly - as some of the other mash-ups have - the performance is certainly awesome looking.
To Read More Click Here.