Tonight was a two hour episode of Hell's Kitchen. This particular review is going to focus on the first hour of tonight's show. I also have already reviewed the second half which I definately enjoyed more then the first.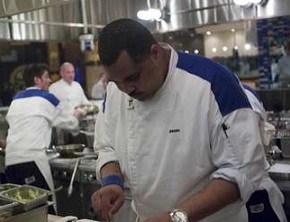 The question entering tonight's first half is whether or not the Red Team can step it up. Ramsay even felt the need to help them out by adding Ben to the team. The first challenge tonight was classic, a couple that have been married 50 years was introduced to the competitiors. They were asked to recreate three main dishes that they had at their wedding with a modern spin to it. In the end its a tie and Ramsay picks Red as the winner, possible sympathy?
The service didn't go as badly as others have so far this season but Ramsay definately singled out Fran, Salvatore and Holli. Fran is no surprise there. She definately made an impression in the second hour of tonight. The red team is sent back to nominate two people for elimination. But here is the thing, the pressure to nominate shouldn't be that bad because rarely any of those nominees are sent home. Ramsay ended up doing that again tonight. Sending the two nominees back, one being Shibohan, and brought Salvatore to the front. In the end Salvatore was sent packing tonight. A way to throw a twist to the show? I think he should just get rid of nominations. But then again there would be no way of telling who is getting singled out by the others.