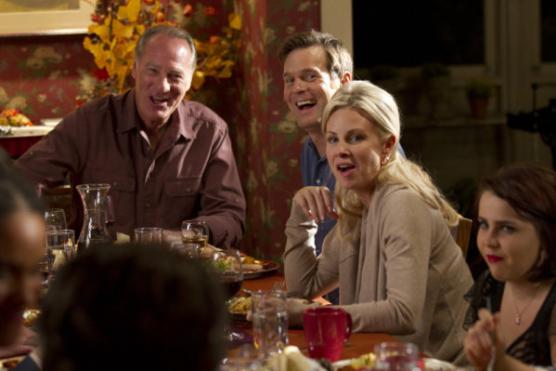 I give thanks for this episode of Parenthood.
On "Happy Thanksgiving," we returned to everything that makes this drama such a wonderful show.  It was more family-focused episode and also moved various plots along.  A recap of the siblings and their storylines:
Crosby:  It was his first Thanksgiving as a family man, and he had a lot to prove.  He begged Zeek to let him carve the turkey, and made sure a prayer was read to impress his future mother-in-law.  He also made several cracks at Joel's masculinity, all in jest of course, regarding the battle for the Kindergarten play from last week.
Sarah:  Sarah wasn't annoying this week, she was actually funny.  I found myself actually hurting for her when Gordon broke off their relationship.  If there's one saving grace for Sarah, it's her kids.  I love them, and the fact that she raised them scores her points with me.  It was good to see Drew and Amber getting some airtime, too.  And the introduction of Sarah's ex, Seth, is exciting!  It leads to a whole plethora of possibilities for her and the kids.
To Read More Click Here.