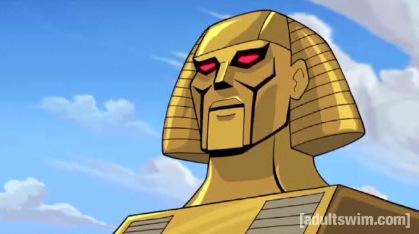 With Dean and Hank having graduated earlier this year, it only made sense to end the season with a prom. However, just like all things Venture Brothers, "Operation P.R.O.M." had more going for it than you'd expect.
Indeed, this week's one-hour season finale had so many game changers, it's best to break it down by item:
Henchman 21: Henchman 21 (Gary) quit the Monarch after working with SPHINX and realizing he has more to offer than just being part of a bumbling organization. He also has rid himself of 24's ghost. It will be interesting to see if he comes back as a member of SPHINX, OSI or on his own.
Sgt. Hatred: Hatred had becomes the boy's bodyguard and, as of this episode, he no longer has the giant red "H" on his face. Now he has a blue "V" for Venture. He also learned that his girlfriend princess tiny-feet is much more into S/M that he thought.
To Read More Click Here.