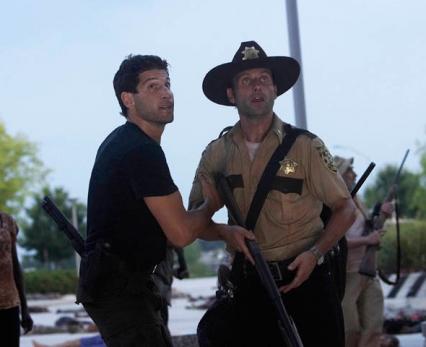 When it comes to killing zombies, there are a couple basic rules: Act quickly and aim for the head.
Unfortunately, things became far more complicated for the group of survivors in "Wildfire," as everyone was forced to deal with the painful repercussions of previous week's zombie attack.
First, Andrea refused to leave Amy's side. It was great watching Amy "wake up" as a zombie and struggle to get at Andrea. I kept waiting for Amy to take a bite from her sister, but it was the gunshot to the head that surprised me. I was glad that Andrea was the one to finish off her sibling, but did she really have to be that close? It was a very risky move on her part, despite her need for closure.
Ed's wife had to deal with the death of her husband, and she went to town on his head. The viewer discretion advised warning was definitely necessary here, as the repeated hits splattered parts of Ed everywhere. I wonder if she blames herself for his death or was simply taking out her anger over the abuse that she had received from him.
To Read More Click Here.