Well the dramatic events of whether or not Hayden or Kristen will get removed from the block are in. And tonight's Big Brother 12 gave tons of suspense on which way the nominations were going to go tonight.
The POV competition had Britney, Regan, Enzo, and the two nominees plus HOH Rachel. The game was pinball that each one eliminated gets a prize which the next person eliminated get later take. In the end Britney won POV, Hayden won 24 hours solitary confinement, Rachel won $5000, Enzo won a 3D TV, and Regan a pass to play in next week's veto. But that also leaves Kristen with the Hippie-tard outfit.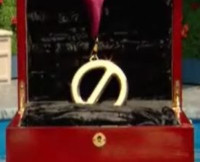 Hayden did a great job of trying to pursuade Britney to use the POV to remove him from the block and I really thought she would take the bait but in the end she decided not to use the POV and played it safe. It is pretty obvious Kristen will be sent home, and the Brigade will celebrate that they have their team mate Hayden back in the game.