Well there was a lot of hype over the past week about a particular bachelor on the show being deceitful. In fact appartently Allie finds out that he has a girlfriend. Well on tonight's episode we didn't even have to wait till the end to witness it. Right at the beginning of the show, Chris confronts Allie and makes her call a previous contestant on the show that happens to know Justin's girlfriend. Allie talks with the girlfriend on the phone only to find out that he has been calling her all through the show and also has another girlfriend that she as well just found out about. Can you say DOG?
Regardless Allie decides to confront him. I have never seen a worse liar in my life. He didn't have a straight answer for her and walked away when she tried to confront him on it. Regardless he is no longer competing on this show.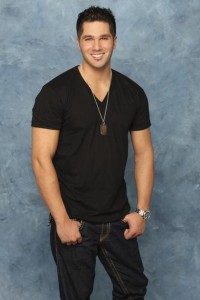 The rest of the show was highly entertaining as well. Allie went on a one on one date with Ty and gave him a rose, and Kirk, Craig, Roberto and Chris (Cape Cod) went to a turkey arena for Olive Oil wrestling. Criag came out on top and won a one on one time with Allie. Frank also received a rose on his one on one date with her tonight. I really think that Frank is going to be making it to nearly the end with Allie. Just a hunch but there seems to be a lot there.
But in the end tonight, Allie decided to skip the cocktail party and jump right into the rose ceremony since she was 100% on her decision. It was down to Kirk and Craig and in the end, Craig (The Lawyer) got sent home.