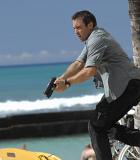 Redemption for Chin. Family drama for Danno. Romance for Kono. An archnemesis for McGarrett.
All of these developments and more are ahead on Hawaii Five-O when this CBS drama returns in January. What, specifically, can fans expect from TV's top-rated new show? Sounds like a question for showrunner Peter Lenkov...
To Read More Click Here.