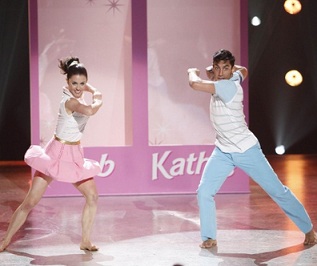 The opening of the show was great with a performance from the contestants to song "When We Dance" by Sting. The dance was choreographed by the one and only Mia Michaels. But that is not why the viewers tuned in tonight, we wanted to see who was going to be sent home.
With the twist this week, Alex Wong was in the bottom three. Not because of poor dance performance but because he couldn't perform at all. He suffered a leg injury on Tuesday that resulted in him unable to perform last night. To be fair, landing in the bottom three was a good judgement.
The other two that landed tonight in the bottom three. First contestant, Billy. Adam advises him to forget that he's in a competition and just bring joy to the stage. He needs to show his heart and his personality pronto. The other contestant also landing in the bottom three, Ashely. Some may have predicted different results tonight. My predictions were right off as well. I thought for sure that Ashley would not be one of them.
The contestants do their solos, all but Alex. Natasha Beddingfield performs during the judges deliberation.So the contestant going home.....drum roll.....Alex Wong. But only because his MRI results are in and it looks like in fact it was a severed Achielles Tendon, and well after surgery he has a 80% chance of dancing again. But the heal time is months. He was definately my front runner this year but I am only assuming that the remaining contestants are overjoyed since he was definately their main competition. Hope to see you next year Alex!