Ok so I am starting to think that this season's So You Think You Can Dance may just have a curse for the extremely talented contestants. Tonight there were supposed to be seven taking the stage in this competion but only six came out on stage. We find out that another contestant has injured themselves and cannot compete this week.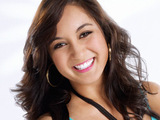 Cat announced that Ashley was the one injured and will land in the bottom three just like Alex did last week. I miss Alex and I worried the show wouldn't have the same entertainment for me without him there since he was my favorite one to watch. But after watching tonight I realized that all of these remaining contestants are extrememly gifted. They are there for a reason and I thouroughly enjoyed all of their performances.
Will Ashley also go home? How bad is her rib injury? Who else do you think will land in the bottom three? And tonight we heard from Alex in the hospital, and it seems that all is going well. Tomorrow is elimination night!