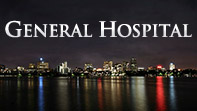 Brenda and Dante can't believe they've run into each other in Port Charles and that they're connected through Sonny. They allude to a mysterious event in their past, but agree that "no one can know" what they did. Brenda also tries to convince Dante of Sonny's innocence in the car bomb case just as Sonny arrives. Touched by her loyalty, Sonny pursues Brenda further only to have her reiterate that they have no future. Later, Brenda asks Jason to help keep her away from Sonny and breaks down emotionally. Sonny arrives to comfort her. 

Spinelli reveals that the Balkan has gone out of his way to be invisible even on cyberspace. Perhaps Brenda knows who the Balkan is without realizing it? Jason confronts Brenda and wants to know what she knows about the Balkan, but she remains elusive. Later, Luke meets with Jason to talk about the Balkan. 
To Read More Click Here.