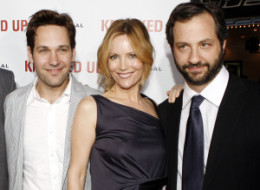 Paul Rudd and Leslie Mann stole the show in Judd Apatow's 2007 film, 'Knocked Up,' and now theft won't even be necessary: Variety reported, and The Wrap later confirmed, that the director is bringing back Rudd and Mann -- and their characters -- for his next film.
Apatow confirmed that report by retweeting a fan's tweet to The Wrap report late Thursday.
In 'Knocked Up,' Rudd and Mann play Pete and Debbie, a mid-30's couple with two kids facing the realities of jealousy and the difficulties of growing older. Ostensibly, they're the supporting act for Seth Rogen and Katherine Heigl -- Mann plays Heigl's older sister -- in their own baby/relationship drama, but the two had such on-screen chemistry that Apatow was moved to give them their own starring vehicle, set for a 2012 release. Read More...
http://feeds.huffingtonpost.com/~r/HP/Entertainment/~3/1Cxz766QiTY/knocked-up-sequel-paul-rudd-leslie-mann-in-new-judd-apatow-film-director-confirms_n_805657.html