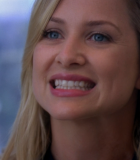 Grey's Anatomy returned Thursday with a strong episode setting the tone for a terrific spring. See our review of "Disarm" for more details and discussion pertaining to last night.
Next week, Arizona tries to reconcile with Callie, who has some big news. Teddy faces a critical decision, the residents get new interns and the Chief makes an announcement.
Could that "big news" be that Callie is pregnant? That would be interesting, especially given her hostility toward Arizona. Elsewhere, has the McBaby making been working?
Watch this promo for next week's "Start Me Up" and share your thoughts ...