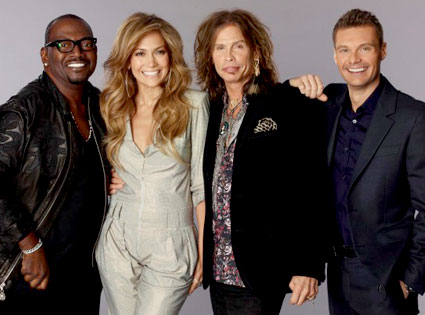 Hey, have you heard? American Idol has been overhauled, and the people responsible for the changes were all present and accounted for at Fox's TCA press tour today—you know, Jennifer Lopez, Steven Tyler, Ryan Seacrest, Randy Jackson and the powers that be.
We got the goods on the new season, plus a preview of the live dynamic between Ryan and the new judges. We just want to warn you...
...they will be putting Steven Tyler on a five-second tape delay. Or at least Ryan hopes they'll have to. In fact, the Aerosmith star was kind enough to sum up the judging dynamic in one sentence: "I get red in the face, she bails me out, and Randy says, 'yo!'" That's the type of serious and professional critique we can expect this year from the juggernaut that is Idol.
OK, it's more than that. Here's the breakdown on the type of roles Ryan, Jennifer Lopez, Steven, and Randy Jackson will play from their perches behind the table: Read More…
http://feeds.eonline.com/~r/eonline/kristin/~3/wmecBTdTpHI/b219972_american_idol_promises_frightening.html