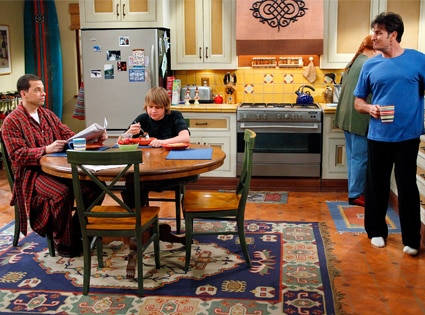 Just because he's not chewing the ears off of tabloid reporters, don't think that Two and a Half Men boss Chuck Lorre isn't letting his feelings about Charlie Sheen's situation be known.
We found four Chuck Lorre production company vanity cards that obliquely (or not so obliquely) reference the situation. The statements are both poignant and funny—"Go to Al-Anon meeting" makes Lorre's to-do list—and they reveal Lorre's perspective on the situation as clearly as anything else:
As a little bit of background, we should make sure you know that Chuck Lorre, the producer who has worked on such shows as Roseanne, Grace Under Fire, Dharma & Greg, Two and a Half Men, The Big Bang Theory and Mike & Molly, has long communicated his feelings about a myriad of topics through the unusual medium of his production company "vanity card." In case you don't recognize the term, vanity cards are the brief slides that appear at the end of every episode of a TV show from a certain executive producer. If you can bring to mind Joss Whedon's "Grrr...argh," J.J. Abrams' Bad Robot or Tina Fey's baby in a peacock costume, you'll know what we're talking about. And if you so desire, you can browse the world of vanity cards at the Closing Logos Wiki. Read More...
http://feeds.eonline.com/~r/eonline/kristin/~3/YarbP4rf-N4/b223209_two_half_men_boss_chuck_lorre_reacts.html