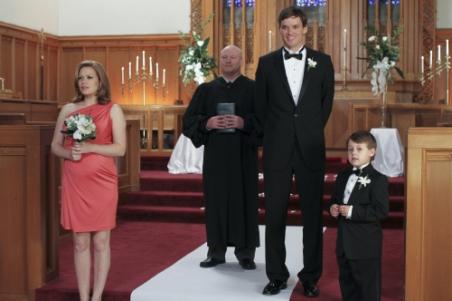 Guess this is my lucky day. - Julian Baker

If you like One Tree Hill, you loved "The Other Half of Me."  This week's installment took me back to the days when this show could so easily pull at the heart strings of its audience, and made me forget any negative things I have had to say about the series in the recent past.
Which brings me to my main argument for why this week's One Tree Hill was such a fantastic episode: There were two - count 'em, two! - moments in "The Other Half of Me" when it got extremely dusty in my living room.
You had to know this was going to be epic when they opened with young Brooke Davis catching a veil outside her house with the red door.  It set the emotional tone for the entire hour.
Let us cut ahead to the first time that the dust started to kick up into the eyes of television watchers everywhere.  As Brooke walked down the aisle to marry the man she loves, we witnessed the most glorious flashback montage I've seen in a long while.  Watching all of the moments that Brooke and Julian have been through since Austin Nichols first became a recurring star on One Tree Hill, interwoven with Sophia Bush smiling ear to ear as she prepared to rattle off her lovely vows, was nothing short of beautiful. Read More...
http://www.tvfanatic.com/2011/02/one-tree-hill-review-the-other-half-of-me/