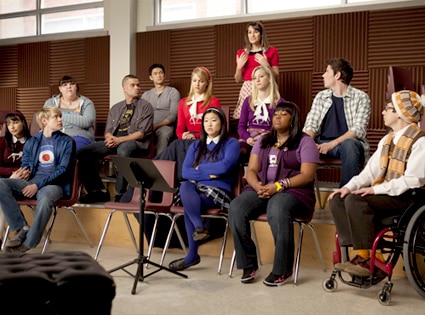 Pictures say a thousand words, they say. And at first glance, this group shot of New Directions from episode 13 of Glee (called "The Comeback") seems pretty standard.
But take a look at whose hands are making babies!
Sam and Santana! Well, we knew that Quinn and Sam were going to break up, and we knew that Sam would be running to Santana for some "salsa spice," as Ryan Murphy put it. But hand-holding? Scandalous!
What does this mean? Heartbreak for Brittana fans. Heartbreak for Sam-Quinn fans. And...confusion as to why everyone is dressed like Rachel Berry (Lea Michele). Wow, the girls do not look happy to be wearing those matching sweaters. Everyone except Rachel, that is. Read More...
http://feeds.eonline.com/~r/eonline/kristin/~3/ldPPslzguvg/b223944_gleeks_are_you_ready_santana-sam-quinn.html