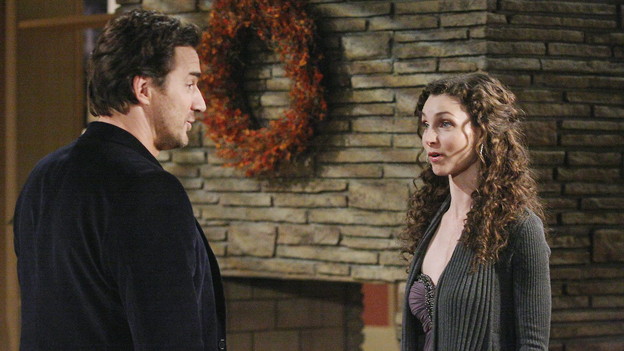 Jesse and Angie learn the amnio went well and their baby is healthy. Jesse accidentally finds out the sex of the baby when he picks up a file the Dr. accidentally dropped (BTW, tell us what you want them to have - boy or girl - and what you think they should name the baby by clicking here). Jesse keeps the sex of the baby from Angie.

Jake informs Amanda that he was offered an opportunity in Africa with Doctors Without Borders but turned it down. Alone with Tad, Jake explains that the offer came from his ex-wife Carolyn.

Zach officially gets out of the casino business. He and Kendall celebrate by getting romantic.

Greenlee takes the stand and Liza brings up the kiss between her and Ryan in the hallway. Liza pushes her on David's death and forces Greenlee to tears. Jackson questions Greenlee and she admits to the courtroom that she didn't love David, but didn't kill him. Still, she just look guilty. Tad tells Greenlee and Ryan that the money transferred to Nick Pearson's (the witness who claimed to have seen Ryan stumble out of David's room and claim he killed him) account was traced back to David. In other words, it seems as if David (before he died) might have paid Nick to accuse Ryan.
To Read More Click Here.