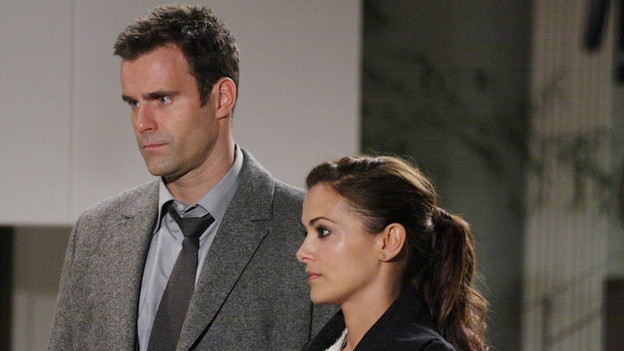 Greenlee and Ryan sit together in the garden shed professing their love for one another. As soon as they say the "L" word, they can't stop talking. Ryan admits he can't live without her. They hope they can find Nick Pearson so that Greenlee can return to Pine Valley and they can start over. Ryan leaves Greenlee to rest in the shed as she smiles after him. 

Ryan finds the security guard that he conned earlier into believing he is an FBI agent. He snoops around Nick's abandoned room to find some maps. Meanwhile Greenlee spends her time remembering moments where Ryan told her he loved her. Ryan returns and kisses her, saying Nick Pearson flew to a remote island. They get ready to leave but panic when they hear police sirens. 

Erica walks in on Kendall and Zach being totally cute and sexy. Awkward! As Erica points out, this is what you get when you give her a key to your house. They turn on the TV and Erica fumes to see footage of Caleb's wrecked press conference—the one where Asher accuses him of killing Sonia. Caleb, who is at ConFusion, calls Erica. They need to talk! Erica can't believe this. She and that reporter had a deal; that footage should've been destroyed.
To Read More Click Here.