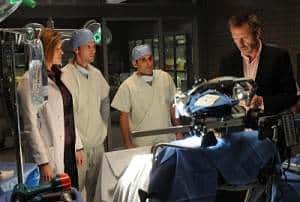 Oh, House, you were doing so well! Last week you had me convinced things were heading in a better direction and the show just might start to be cool again. Guess I overestimated you, huh? It's really hard to say this, but tonight's episode was almost painful to watch.
There were three different plots and I couldn't make myself care for any of them. The case of the week presented a very serious mental disease schizophrenia so kudos for raising awareness about it, but the narrative was just so weak and I wasn't even curious to find out what the girl really had.
On top of that, there was the ongoing Huddy relationship that seems to take over every single episode so far. House's massage therapist just happened to be a hooker who he used to have sex with. Cuddy obviously is not okay with that and asks House to stop seeing her, but he doesn't see any harm. He even goes as far as to hire a male hooker to give her a massage just to prove his point, which just pisses her off even more. In the end, House sees the error of his ways and they both agree they need to stop keeping each other at arm's length and let each other in, so Cuddy takes him to her place to finally meet her daughter.
To Read More Click Here.