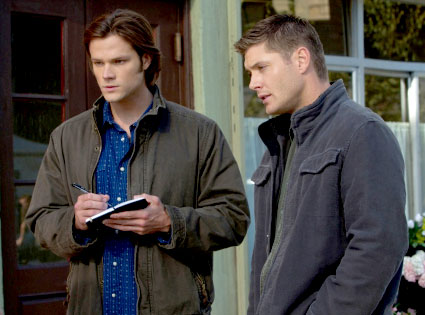 Get happy, Supernatural fans!
By all accounts, the show that was supposed to end last year is very, very possibly getting a renewal for next year. Seven seasons of SPN? Say hallelujah, everybody!
Here's what the executive producers told us about this season's final showdown and what it sets up for the Brothers Winchester in their highly anticipated future:
Creator and executive producer Eric Kripke tells us they are more than hopeful that a seventh season of the show will be produced by Warner Bros. and picked up by the CW, saying, "We're looking pretty good. We're bullish enough on it that we cliffhang the finale." 
Executive producer Sera Gamble concurs, saying, "I feel an obligation to answer a fair amount of questions, but also to cliffhang some stuff for next season. We have some stuff cliffhanging at the end of season six, so hopefully, knock on wood, we have a season seven." 
And speaking of that cliffhangy finale, Gamble tells us that the Kripkeeper himself came back for the finale funtimes: "The production draft of episode 22 just came out; Eric Kripke wrote it." Kripke tells us, "I'd actually say my favorite thing [in the finale] is the final minute. Stay tuned for the final minute. It's one of those moments where the more you stop to think about it, the more you feel the enjoyment of the writer, looking at what he's doing and going, 'I can't believe I got away with that.' When you look at it subtextually, it's sort of a nutty thing that I did." (We love dirty subtext! Because, come on, the Supernatural subtext is always dirty...right?) Read More...
http://feeds.eonline.com/~r/eonline/kristin/~3/uXBHaxWBcxc/b230768_supernatural_season_seven_looks_more.html