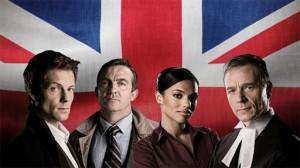 This week's Law & Order: UK is an adaptation of one of my favorite Law & Order episodes, Born Bad. As the original title suggests, it poses the question of if we're genetically predisposed to be good or evil. The subject of genetic predisposition to anything is likely to be argued for years to come, which makes seeing this plot 17 years later no less intriguing.
When the dead body of Danny Jackson is found by a local reverend, there's no shortage of suspects - whether it's his drug-addicted mother, her abusive ex-boyfriend, or local gangs. However, the investigation leads Ronnie and Matt to an even more disturbing source: one of the boy's young friends, Jonathan Blake. When the Crown Prosecutor charges the thirteen-year-old with murder, the defense attorney (an old girlfriend of Steel's played by Dervla Kirwan, whom Spooks fans may know as the better half of star Rupert Penry-Jones) argues that DNA made him do it. While it seems ludicrous, by the end even Jonathan believes he might be evil. He's motivated to plead guilty to Danny's murder, for better or for worse.
To Read More Click Here.