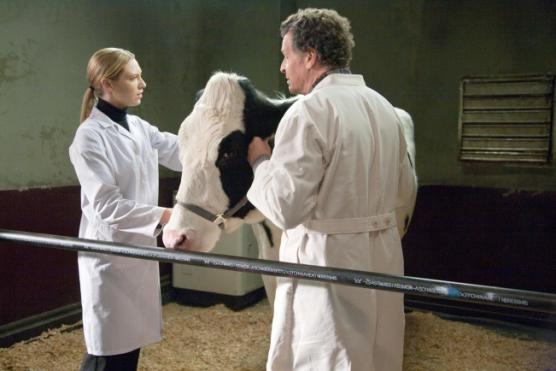 Anna Torv as William Bell sounded a bit like Katherine Hepburn. Note to movie producers, if you're looking for someone to play Hepburn, I've found your lead! The accent seemed difficult for her to keep up, as there were times she sounded much like an almost normal Olivia.

As soon as guest star, Paula Malcomson (Amanda Greystone, Caprica) walked away from a skydive off of a building, I figured they had already chosen her to house William Bell. After all, his brain won't die, so he might as well live in a body that won't die. Once he got used to wearing the bra, the rest seemed simple.
Since Leonard Nimoy's guest appearances were kept to a bare minimum, we never really got to know William Bell. He's kind of an ass. He's not as quirky as Walter, so it's harder to let him get away with that.

It was hard enough to forgive him for taking over Olivia's brain, but he didn't even give it a second thought. He knew there were risks, but his concern for Olivia was only that her body let him find a way to rehouse his consciousness before the process caused any lasting damage to Olivia. Read More...
http://www.tvfanatic.com/2011/03/fringe-review-stowaway/