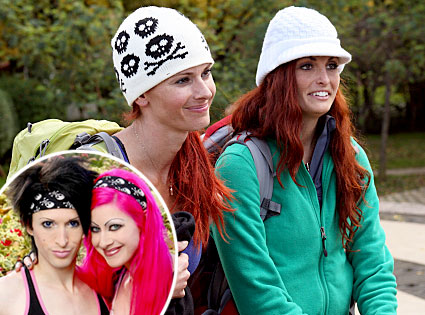 After missing a mandatory flight last week on The Amazing Race, Goth darlings Kent and Vyxsin paid the ultimate price: a 30-minute penalty.
Wait, what?
In a shocking turn of events, a different pair of eyeliner enthusiasts—not the Pink and Black Attack—was sent home last night. And the cheerleaders are tossing their pom-poms in protest.
"I felt there was an exception made, personally," Jaime Edmondson complained to us today about the wrist-slap that let the Goths advance in the game while she and pal Cara Rosenthal were eliminated.
"The fact of the matter is," Cara added, "Kent and Vyxsin were the only team of all the teams that did not get on the mandatory flight...This leg was a very tough pill for Jaime and I to swallow." Read More...
http://feeds.eonline.com/~r/eonline/kristin/~3/S_l_VKfZoaI/b232063_amazing_race_cheerleaders_cry_foul_over.html