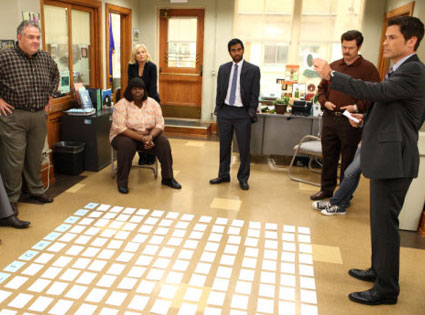 Unlike its sister Thursday-night comedy shows The Office and Community, Parks and Recreation was wrapped on season three when they got the news they'd be getting a season four. So, the cast wasn't really all in one spot when the thumbs-up for renewal came through.
Read on to hear from executive producer Mike Schur how his cast celebrated, and get a preview of tonight's "Camping" episode...
"We're all absolutely thrilled that we get to make another season, but since we're not shooting right now, we all had to celebrate by ourselves," Schur tells us. "Nick Offerman ate an entire cow. Aziz Ansari had a rap battle with Drake, and won. Rashida Jones was so happy she spontaneously appeared on the covers of 100 magazines. Rob Lowe ran a three-minute mile. Chris Pratt wrote a song about how Nick ate an entire cow, and then he also ate an entire cow. Aubrey Plaza was so excited she nearly smiled. Adam Scott played a round of Russian Roulette with a group of athletic Finns in matching sweatsuits (he's into some weird stuff). And Amy Poehler celebrated by getting head-to-toe plastic surgery, and now looks like Channing Tatum." Read More...
http://feeds.eonline.com/~r/eonline/kristin/~3/C6AyvPgavXs/b232520_parks_recreation_how_cast_celebrated.html