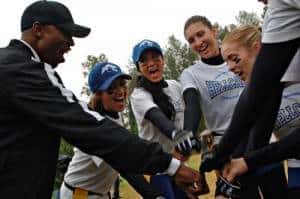 As the Hellcats are practicing, the volleyball team comes in to raise a little hell, throwing a ball right at Alice, who's at the top of her pyramid. Much to Marti's dismay, Savannah backs Alice's agreement to a flag football match. The downfall? If they lose they have to cheer for the other team - naked. Savannah looks mortified when Marti's mom said she likes to think of them as 'special dancers'. Ouch.
Louis is coaching the team and on the first day of practice, the situation is less than spectacular, with girls that can't throw, except Alice, who wins the spot as quarterback (big surprise there huh?). Eventually they get better by the end of practice with a lot of support from Louis. Louis speech doesn't last long as Alice's new boy comes in and Louis tells her to get him out of there. Alice finds out that her boyfriend is coaching the volleyball team.
To Read More Click Here.