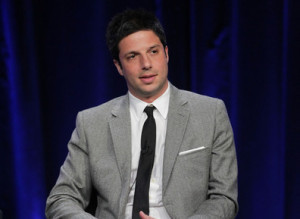 For every sitcom about young friends hanging out, there seems to be another show about young friends hanging out, but David Caspe is hoping you give his new ABC show, "Happy Endings," a chance.
Premiering tonight on ABC, "Endings" kicks off with Alex (Elisha Cuthbert of "24") leaving her fiancé (Zachary Knighton) at the alter. Their closest friends (among them SNL alum, Casey Wilson, and Damon Wayans, Jr.) then have the uncomfortable task of choosing sides.
Caspe, the show's young creator, came to LA in 2006 with a feature script in hand, and has since sold a few others, including an Adam Sandler vehicle currently in pre-production, I Hate You, Dad, about a father who moves in with his soon-to-be-married son.
We spoke to him about leaving behind a career as a visual artist, the limitations of network TV, and his first experience as a show-runner. Read More...
http://feeds.huffingtonpost.com/~r/HP/Entertainment/~3/FkT36sx6VgI/happy-endings-creator-tal_n_848847.html