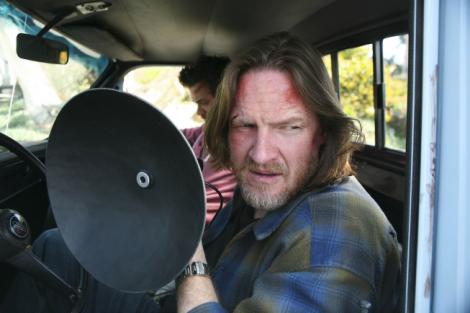 Terriers is a show about relatively small-time private investigators who often stumble upon big-time crimes.
Similarly, this week's episode ("Dog and Pony") proved that the series can excel in both small and large moments, creating quick jokes with the former and emotional pay-offs with the latter.
On the smaller moments front, the chemistry between the cast - especially stars and real life BFFs Donal Logue and Michael Raymond-James - was evident in humorous moments such as:
* Britt flashing Katie a look when she sympathized with the big (big!) bad guy.
* Britt asking Donal about his cure for blue balls, which elicited the immediate response: "Don't get married."
* Really any scene between these two in the truck. I could watch them simply talk to each other for an hour.
But the episode also served as a showcase for Logue and his dramatic chops.
The way the conclusion depicted Hank's arrival at his former house, while simultaneously flashing back to he and Gretchen's original move-in, was brilliantly executed.
To Read More Click Here.