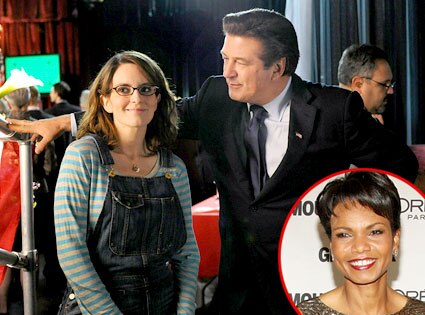 One of the most powerful women in politics is coming to 30 Rock. And no, it's not her. As if!
Instead, it's going to be former Secretary of State Condoleezza Rice (a long-established former flame of Jack Donaghy's) who will be dropping in on Tina Fey, Alec Baldwin and the rest of the liberal elite over at TGS.
And if Tracy Morgan goes the entire episode without once claiming she's his birth mother, we'll be shocked.
Fey made the announcement yesterday, both to an excited crowd at a Bossypants book signing at the Sixth & I Historic Synagogue in Washington D.C., as well as on NPR's Leonard Lopate Show.
"Every now and then we hear that someone wants to come, but usually we ask them. Usually we try and do it where we write the part first, so that we have something good to offer them. 'Cause all actors like to see, you know, a juicy part," she told Lopate. Read More...
http://feeds.eonline.com/~r/eonline/kristin/~3/yF9Vi8QKsDc/b236752_30_rocks_latest_guest_star_score.html