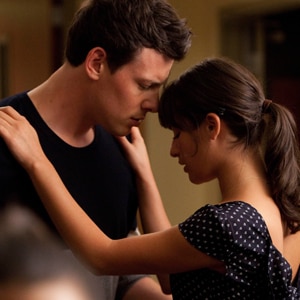 Finchel fans, you might want to hold on to something before you watch this, because you are gonna swoon.
Yep, we've got an exclusive first look at Lea Michele's "feminine twist" on Fleetwood Mac's "Go Your Own Way" from Tuesday's all-new episode of Glee, "Rumours," and there's no mistaking it: Rachel Berry and Finn Hudson (Cory Monteith) want each other bad.
In case you're worried that you're imagining their longing glances and visible chemistry, check in with Quinn (Dianna Agron) for jealous verification that something is going on. (She's so mad!) Read More...
http://feeds.eonline.com/~r/eonline/kristin/~3/Zs9xxiI-GNg/b239370_exclusive_glee_sneak_peek_awww_rachel.html