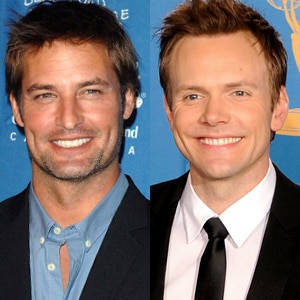 Tonight's the night!
Community's highly anticipated two-part spaghetti Western tribute begins tonight, and we cannot wait to see what Josh Holloway brings to the show. We chatted with Community stars Joel McHale and Gillian Jacobs about how the big high-noon standoff goes down.
Plus, will Lost star Holloway be back to stalk Greendale students again another day?
First, the best news: Gorgeous Josh and gorgeous Joel will come face-to-face! As Joel tells us, "We share numerous scenes, we are in a number of scenes together. He plays a guy named the Black Rider. He's really funny in it," And he's allegedly a student at Greendale? "Allegedly." Read More....
http://feeds.eonline.com/~r/eonline/kristin/~3/tIP_rVLtaOM/b240322_community_showdown_joel_mchale_faces.html