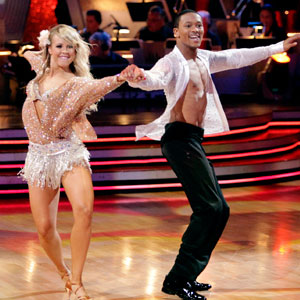 It's almost semifinals time on Dancing With the Stars.
Next week, four celebs will hoof it out for a slot in the three-team finale. Sure, it's exciting, but it means that Kirstie Alley, Chelsea Kane, Ralph Macchio, Romeo or Hines Ward was booted tonight.
And that's just a shame, considering how far they've come and how we could see any one of them hoisting the mirror-ball trophy.
Without further ado, it's time to say goodbye to...
Romeo and Chelsie Hightower, and that totally sucks.
"We went out with a bang, you know, that's the most fun I had in my life yesterday," the 22-year-old said of his tango and salsa routines, which (in our opinion) were scored far less generously than they deserved.
"This show has changed my life forever," he continued. "I was terrified of dancing. I didn't dance at my own prom, I turned down a lot of movies because I was terrified of dancing...I think I showed kids, anything is possible if you try." Read More...
http://feeds.eonline.com/~r/eonline/kristin/~3/5TgfTO-bLs8/b241151_dancing_with_stars_was_tonights_cut.html