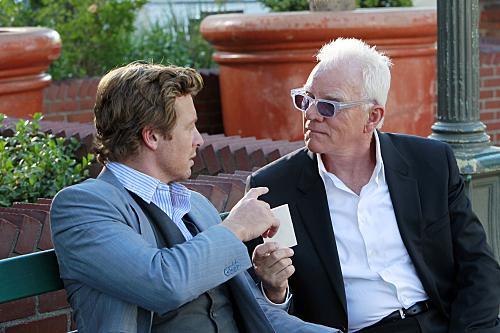 Season three of The Mentalist just keeps getting better. I'd classify ''The Blood on His Hands'' as the best episode yet.
This week, we bring back Red John and the abduction of Kristina Frye. She's been missing for four months. Most people assume she's dead until she mysteriously calls into a psychic radio show. Patrick identifies her voice and police trace the call. She isn't found, but the address leads them to an empty, pad locked room with a creepy doll on the floor and Red John's logo painted on the wall in Kristina's blood.
Our two cases overlap this week. The murder victim, Celia, was a member of a cult-like church called Visualize. The cult leader, Bret Stiles, is somehow connected to Red John. Stiles tells Jane, He wants to take away everything and everyone that you care about. It's a form of love you know. Very creepy. How does he know what Red John is thinking? I hope we get some answers in a future episode.
Grace and Rigsby shared some great scenes. Rigsby is dating again and Grace is obviously a bit jealous, although she tries to cover it up. As they drive, Grace admits her feelings to him, but says she'll move beyond it: ''Can we be just friends?'' Rigsby agrees and it's a nice moment between them.
The scene haunts Jane as he tries to work another murder case.
To Read More Click Here.