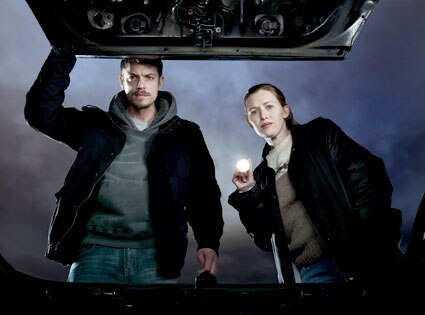 Oh, you wanted answers?
Viewers who invested 13 hours in The Killing, AMC's gripping/meandering murder mystery, to learn the identity of Rosie Larsen's killer got something else altogether in tonight's finale...
After a 100-mile, 12-episode detour—and more red herrings than could fill a Seattle fishing boat—show runner Veena Sud rewarded her audience's commitment with what amounted to a slap in the face.
Not only was the killer not revealed, really, but we were betrayed by smarmy but lovable cop Stephen Holder (breakout star Joel Kinnaman). The writers also betrayed his character: Even if he believed mayoral candidate Darren Richmond (Billy Campbell) was guilty when he framed him for Rosie's murder, his actions in this episode are inconsistent and illogical. (Why the charade of having Linden requisition the tollbooth photos?) Read More...
http://feeds.eonline.com/~r/eonline/kristin/~3/CDh45xzPsxQ/b248136_killings_shocking_finale_love_it_loathe.html