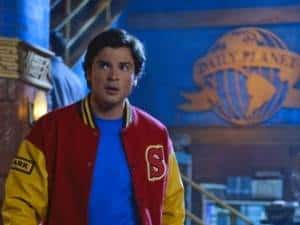 With the Maiden of Might and Green Arrow plastered over the covers of magazines, Lois tells the Blur that the Blur would never let them down. It is the Smallville High Reunion and Lois, even though she was only enrolled for twenty three days (appearing for five) is more excited than ever.
The reunion brings back memories of Lana. For Lois, she's disappointed that nobody remembers her, not even the chess geeks though sat through an entire game once.
Things at the reunion take a turn for the weird-and no, not Wall of Weird, Brainiac Weird. He sort of teleports Clark away. Brainiac is from the future. He is now with the Legion and he takes Clark into the past, back to his father's funeral. He even brings Clark back to the moment of his father's death. He shows Clark that Oliver needs him.
To Read More Click Here.