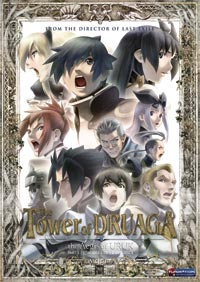 Basing a big-budget anime on a game that was basically Pac-Man the RPG may seem the height of foolishness, but The Tower of Druaga: the Aegis of Uruk proves to be a surprisingly entertaining exercise in mating pop self-awareness with classic fantasy thrills. It's both smarter and more exciting (not to mention funnier) than it has any right to be, and if it's visibly constrained by its source material, well, that isn't exactly unexpected.
Druaga makes it clear from the outset that it doesn't take itself too seriously. Episode one is a buck-wild skewering of RPGs that leaves no trope unpunctured: party-building, power-ups, leveled items, dead comrades, evil overlords, even tentacle rape-they all come in for a drubbing. It's pretty darned funny and sets an ironic tone that the series resurrects whenever things get too genre-bound, but its real purpose, in retrospect, is to map out with surgical precision and towering derision exactly the path the series will later take in a far less compressed and entirely less ironic manner (sans tentacle rape). The party-building, the tower-ascending, the dead comrades, and of course the demon smackdown at the end-the series makes no attempt (or perhaps more accurately is unable) to avoid any of the clichés it so gleefully savages in its opening twenty minutes.
To Read More Click Me!