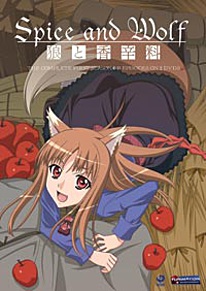 The notion of a sexy, playful wolf girl who thinks nothing of showing nudity (she only dons clothes because this form gets cold easily might seem like classic otaku bait, but the soulful opener provides the first clue that this may be something entirely different. By the end of the second episode and possibly even by the end of the first viewers should realize that Spice and Wolf has no close kin amongst anime series in general, much less fantasy ones, and that is a Good Thing. Based on a series of novels by Isuna Hasekura, this is a surprisingly mature tale which has a certain playful spirit and does involve some action, fan service, and supernatural elements but ultimately depends far more on the strength of its characters and on plots heavily ground in economics to keeps its viewers involved. And that it does wonderfully well.
Ever watch a series where an entire episode can pass with little more happening than the two leads just talking to each other, and yet at the end of the episode you wonder where the time has gone? Spice and Wolf can do precisely that. The chemistry which quickly develops between Holo and Lawrence is an ideal example of the correct way to portray progressing character dynamics: let it happen naturally within the boundaries of the personalities of each character and without being forced by outside stimuli. Through the lengthy (but never tedious) conversations, Holo and Lawrence each show their distinct viewpoints and how they mesh or contrast with each other: he is a merchant who looks at things not necessarily from a silver-and-gold-coins point of view, but from one ground in the ebb and flow of trade; she is an extremely long-lived and temperamental wolf goddess who may have taken humanoid form, and delights in human pleasures, but is still very much a wolf. Within that confluence a thoroughly enjoyable anime duo is forged, with each one gradually learning how to (and not to) play off of the other. By the end of this first series they have not quite become a proper couple but are certainly headed in that direction.
For all that the practical-minded Lawrence brings to the series, the true star is indisputably Holo (whose name is often transliterated instead as Horo, although Holo seems to be the official version). She cuts a fine visual appeal with a sleek teenage physique, adorned with wolf ears and tail, that she does not mind showing off in nipple-less fan service scenes, but for her the nudity is much more an expression of character than prurient fan-pandering: it simply does not occur to her that being naked in Lawrence's presence might be an issue. Whether clothed or not, Holo is delightfully playful, sly, vain (especially about her tail!), easily jealous, and regularly quite clever, yet at times she also shows a deep loneliness borne of centuries of isolation from those who might understand her, from which comes a yearning for companionship which underlies everything she does. Her responses to certain situations also gives her a more natural and well-rounded feel than anime heroines typically achieve; in one scene in episode 2 where she goes too far in teasing Lawrence, the hurt on her face when Lawrence reacts negatively is that of a scolded child. This highly unusual blend of traits sets her well apart from the typical tsundere heroines anime fans have recently been accustomed to seeing.
To Read More Click Me!