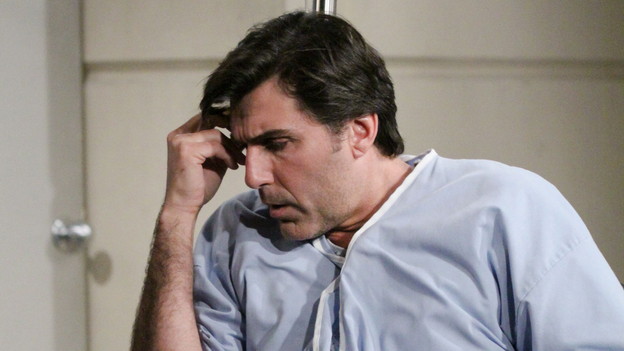 At the hospital Jake welcomes Scott to the staff. Scott thanks him, but is confused. Where is his office? Jake informs him that he doesn't have one and hands him a laptop. It's all he'll need in his position as a data entry clerk. Scott thinks Jake is joking. Jake explains that it's the only position open at the hospital that he was qualified for.

As Scott begins set up shop in the hall (come on, Scott, at least go to the cafeteria or lounge), Madison walks by. She's at the hospital for her OBGYN appointment. Scott shares with her the dismal details about his new job. He feels it's beneath him, but Madison thinks it's cool. He was on top of the world and made a mistake. Now, no matter what he's doing, at least he's getting his life back on track. Madison opens up to Scott about her sordid past and how she also had to rebuild her life. 

After Madison's appointment, she goes back to Scott, who is still in the hall. While they are talking, Ryan shows up and is surprised to see Madison and Scott together. He wasn't aware that they knew each other. Scott tells him they met at the prison.  Read More...
http://abc.go.com/shows/all-my-children/episode-detail/episode-10542/682739