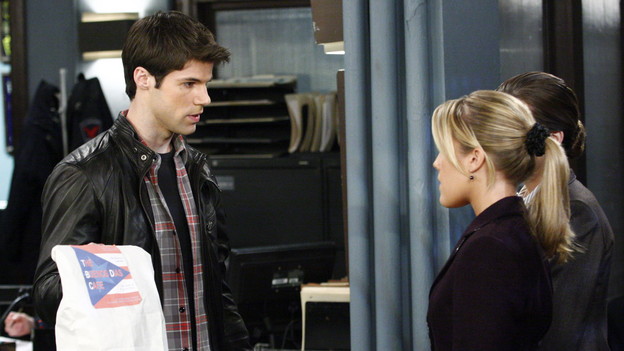 At La Boulaie Blair hesitates before opening Elijah's box. Cristian encourages her, saying he will be here with her. Who knows what could be in that box? Maybe it's hope for the future, but Blair won't know until she opens it! So Blair tries to pry it open, but it's stuck. Cristian jimmies it open and they find an oil painting of Blair rolled up inside. A careful inspection of the painting reveals it was completed in 2003, which is strange since Blair met Elijah a year and a half ago. 

In the hallway Dorian is startled when she receives a call from David. David tells her that he never stopped loving her, but Dorian insists she has moved on. When David admits he is in jail, Dorian assumes he is calling for bail money and hangs up on him! 

Downstairs Starr invites James in. He wants to talk to her -- about their New Year's Eve kiss. Starr looks hopeful for a nanosecond but is crushed when James says that he needs to date other people. He knows Starr isn't available and he didn't mean to encroach on her relationship with Cole. Starr tries to smile brightly as she encourages James to see other people. Later Dorian sees James and mistakenly thinks Starr is moving on from Cole. Starr corrects Dorian; she could never abandon Cole in his time of need. She only kissed James because she was lonely. Dorian looks at Starr; so James could've been anybody then? Starr nods, but we see she is on the verge of tears. Meanwhile James runs into a classmate named Michelle in outside of the diner. She asks him to get hot chocolate and James accepts.  Read More...
http://abc.go.com/shows/one-life-to-live/episode-detail/episode-10843/668620