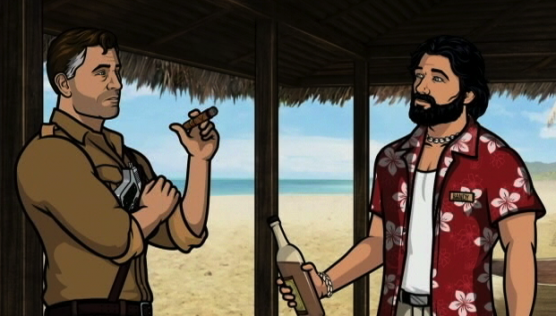 When I first heard Archer was returning for three episodes in the fall before its real return in the mid-season, I was a little skeptical of the gimmick.  But leave it to FX and Adam Reed to do it right, by making the episodes a three-part special assignment, "Heart of Archness."  Get it?
Tonight's adventure joined up with Sterling just three months after losing his fiancee.  Our man?  Gone missing. When the ISIS gang has failed to find him, enter what I consider one of the best casting decisions this show has made: Brock Samson Patrick Warburton as Rip Riley.
The sky captain of yesteryear fit right in with the rest of the show's strange 70s vibe and the rest of the cast.  As if combining my two favorite cartoons animated programs wasn't enough, you probably noticed David Cross, the fourth Arrested Development cast member to voice a character, as the pirate slave. Read More...
http://www.tvfanatic.com/2011/09/archer-review-heart-of-archness-part-i/