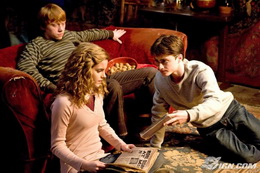 Warner Bros.' Harry Potter and the Half-Blood Prince stayed at No. 1 internationally over the July 31-Aug. 2 weekend, while the No. 2 spot saw a close battle between a pair of 3-D toons.
Twentieth Century Fox's Ice Age: Dawn of the Dinosaurs grossed $24.7 million from 8,844 runs in 68 territories for a boffo cume of $551.4 million, making it the top-grossing animated title of all time at the foreign B.O. Disney/Pixar's "Finding Nemo" was the previous record-holder at $524.9 million.
Performances of "Ice Age 3" and "Up" provide further evidence of 3-D's ability to boost the bottom line through the additional charge for a 3-D ticket.
"Ice Age 3" narrowly won the No. 2 spot over Disney/Pixar's Up (2009), which grossed $23.4 million from 2,109 runs in 23 markets. Toon's foreign cume is $79.8 million, even though it is still early in its run.
In its first major push, "Up" saw uplifting launches in France and Spain.
"Up" grossed a massive $8.9 million from 718 runs in Gaul, where it opened the Cannes Film Festival in May, becoming the first animated title to ever do so.
Results in Spain were equally impressive. "Up" performed in line with buoyant predictions, grossing $7.9 million from 602 prints. In Spain, there were only 161 3-D runs, but they yielded $3.3 million for a print average of $19,110.