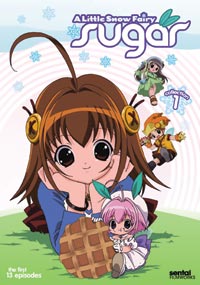 There is something disturbing about A Little Snow Fairy Sugar. In an era of carefully honed market research, where every series is an amalgam of tropes and fetishes designed to appeal to its target audience, this relic from the early 2000's is strangely devoid of any gimmicks. Saga is not some unwitting nymphet for creepy older men to drool over, and neither is she a wish-fulfilment vehicle for little girls who want to be idols or pastry chefs or surrounded by hot guys. The fairies are not secretly fighting a battle in the magical world where they must face tougher and tougher opponents. And the search for the ''Twinkle''' is not a plot device designed to sell a collectible card game. What's so disturbing about Sugar is that it is exactly what it is: a heartwarming children's series with an infusion of magic. For that, we can all breathe a sigh of relief.
But wait, is that a sigh or a yawn? The show gets off to an incredibly weak start, and if this were the bad old days of 4 episodes per disc, people would be quitting the series in droves after Volume 1. Saga's first encounter with Sugar is presented with lackluster pacing, and even the arrival of Sugar's friends (the appropriately named Salt and Pepper) fails to raise the series above a mindless fetch quest where the fairies keep searching for the Twinkle but never find it. At the same time, Saga's exasperated dealings with them never quite reach full comedy potential; instead, she just seems to be stomping around being mad at the fairies all the time.
To Read More Click Me!