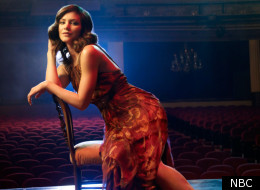 You've seen the commercials; you've read the articles; and you may have even seen the first episode.
There seems to be no escaping "Smash," NBC's new musical drama about the creation of a Broadway show.
The Peacock network has been touting the debut of the new series, which is backed by Steven Spielberg, for months now and critics has been singing its praises; but all of that puts some pressure on the people whose job is to make the show a success.
"You know something? You can't really escape the pressure, whether it's direct or implied or just kind of omnipresent," Neil Meron, "Smash" executive producer, told The Huffington Post on set. "You just try and not think about it because the show is so massive just in terms of its day-to-day schedule. There's enough pressure in terms of producing the show. Everything else kind of falls by the wayside when you have the show as your first priority." Read More...
http://feeds.huffingtonpost.com/~r/HP/Entertainment/~3/6gZ9G1Dkn4I/smash-katharine-mcphee_n_1231877.html