"The Pact" featured Mackenzie Phillips as Ellen Russell and Kim Wayans as Darlene Beckett, a pair of mothers whose children were victims of killers. 
Ellen's child was hit by a drunk driver and Kim's little girl was murdered by a sex fiend... actually a group of them.  The mothers were out for blood and agreed to swap vengeance in the manner of Hitchcock's Strangers on a Train or the more recent Throw Momma from the Train, directed by Danny Devito.  Only one of them happened to enjoy the process a little too much, while the other could barely keep from blowing chunks after each episode of their vigilante justice.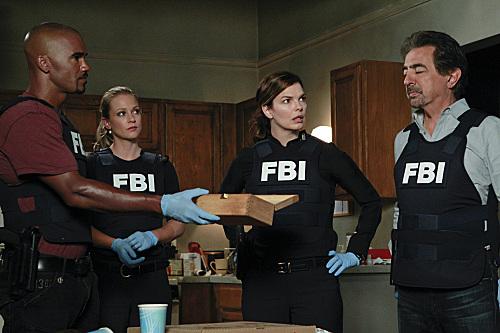 This partnership, or pact, formed the theme for the episode, summed up with the BAU's profile of them when it was stated they felt the "justice system has gone wrong and it's up to them to set it right."
Overly lenient court sentences were at the core of this story and served as catalyst for the vigilante moms. At one point, Darlene tearfully shouted "my baby's life is worth more than 10 years!"  It seems many parents have often said the same in real life.  This, of course, set us up:  their outrageous vengeance - which we saw when a few of their targets were taken out for a drag - was at least marginally understandable, though we could never fully sympathize. Read More...
http://www.tvfanatic.com/2012/10/criminal-minds-review-time-for-a-blitz-attack/#ixzz296f05cld