Welcome to a stranger's review of CSI! Jim Garner was unable to make it this week, so I'm braving territory that has been unexplored since the early days of the CBS drama. Let's see if we can have a good time with this week's "Code Blue Plate Special"
Not only has it been a long time since I've watched CSI, but I've regretfully not been to Las Vegas for about five years. One thing that hit me right off was that if I looked out of the local diner and saw a man standing like Mike Myers, staring blank-faced inside, there is no way in the world I would have allowed those beat cops to leave. Especially in the month of October. That literally gave me the chills.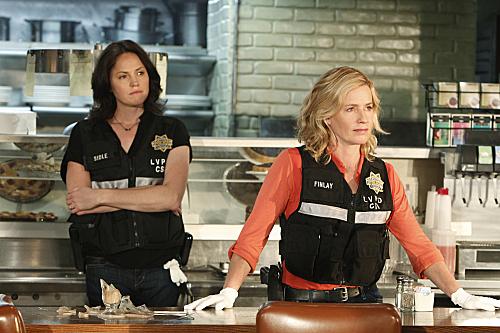 I don't know how often the CSI team has to deal with crimes that hit so close to home, but when pretty much everyone frequents a diner and knows the employes and regular patrons by sight, if not by name, it really gave the case an urgency to be solved. As Jim told the US Marshall, those were his friends that were killed... so someone better start sharing information. Read More...
http://www.tvfanatic.com/2012/10/csi-review-desperation-diner/#ixzz296fAxPzh