Last week's premiere ended with a school shooting that promised serious repercussions. This week's episode takes place the next day, and those repercussions start to affect the club and the people around them.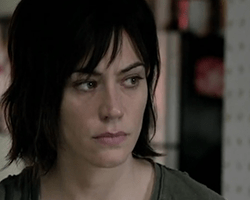 I was almost expecting the episode to begin with the characters sitting around, sadly discussing the tragedy. I'm glad that Sons was above dwelling on it. They're aware of what happened at the school-- likely they saw it on the news, but they aren't personally connected to it. Until Nero's cousin, Arcadio, tells him that they are.
Meanwhile, Toric continues his crusade to take town SAMCRO. He's again pressuring Clay to flip, and while Clay agreed at the end of the previous episode, he hasn't signed anything yet. Clay demands to see Gemma and Jax face-to-face one last time, claiming that he wants to tell them to their faces that he's going to hurt them. Part of me doesn't want to believe that-- that Clay's just stalling to milk his protective custody and that he'll never turn against the club (at not least to the law). Toric's frustrated at Clay's refusal to sign the papers, and he does what any grief-stricken crooked cop would do: he forges Clay's signature.
Read more at http://www.tvovermind.com/sons-of-anarchy/sons-anarchy-6-02-review-one-one-six-221543#FTM0LfXiK8AkBei6.99