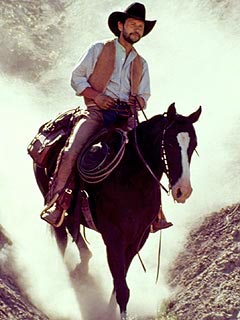 Billy Crystal's beloved horse, Beechnut, recently died at the age of 27 – and the comedian remembers him fondly as a good friend and companion.
"Beechnut was, in a way, one my best friends," Crystal, 60, tells PEOPLE. "He was incredibly human in his instincts."
Crystal first met the horse on the set of his 1991 comedy City Slickers, which filmed in New Mexico. After the shoot, Crystal couldn't help but keep the horse. "It was an on-location romance," he says of their bond. "I wasn't sure I wanted to continue it after I finished the shoot [but] there he was with a ribbon around his neck."
The comedian also famously rode the horse on stage at 1991's Academy Awards, which he hosted, as part of a tribute to that year's best picture winner, Dances with Wolves.
"It was like driving a Porsche," Crystal recalls of riding his horse. "He was so athletic and great."