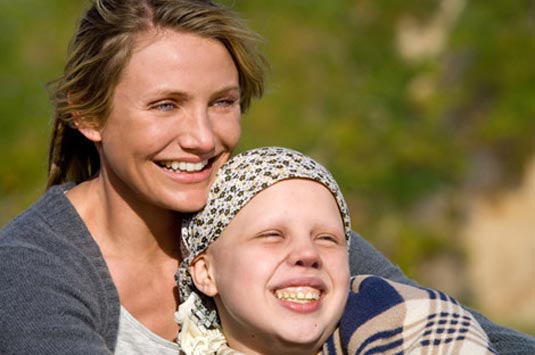 Bottom Line: A thinking man and woman's weepy.
If you're going to make a weepy, there's no reason you can't make it with intelligence and insight as the makers of "My Sister's Keeper" have done. The audience manipulation -- if one wants to call it that -- comes from your understanding of these people and how this particular family operates in an atmosphere of love and mutual concern. The tragedy that forces its way into their midst is fought with tenacity, and the conflicts within the family are portrayed in such a manner that no one is a bad guy.
A film about a child with leukemia understandably has a small theatrical audience. Indeed, Jodi Picoult's novel, on which Jeremy Leven and director Nick Cassavetes' screenplay is based, might seem more at home on television, where illness, doctors and hospitals somehow feel less alarming. But "My Sister's Keeper" does benefit from a sagacious big-screen treatment: It allows for nuances and takes time to focus this story of an illness on all the people it affects.
The movie begins with a bit of misdirection when 11-year-old Anna (Abigail Breslin) sues her parents. It looks like you're headed into a fascinating legal drama dealing with a thorny ethical issue.
Anna has always known she is a "donor child." When her parents, Sara (Cameron Diaz) and Brian (Jason Patric), discover their first daughter, Kate (Sofia Vassilieva), has leukemia, they choose to conceive another child through genetic engineering who would be a perfect genetic match with Kate. Thus, Anna can donate blood or whatever else is necessary to keep her elder sister alive.
The two girls love each other dearly, so Anna never complains. Then, 11 years into this routine, Kate's kidneys are failing and she'll need one of Anna's. Anna finally says no. She hires a big-shot lawyer (Alec Baldwin), whose face adorns billboards and buses all over Los Angeles, and goes to court seeking her "medical emancipation." But her mom, who gave up a law practice to care for her ailing daughter, will make a ferocious opponent.