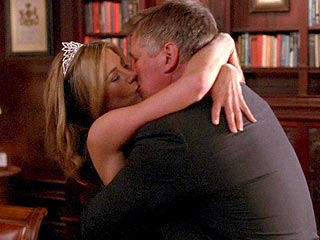 What's it like to kiss Jennifer Aniston?
"It was the greatest day of my life," Alec Baldwin told PEOPLE Wednesday at the Robert F. Kennedy Bridge Dedication Gala in New York.
The two locked lips during last week's episode of 30 Rock, where Aniston played a crazy friend of Tina Fey's from Chicago.
Baldwin said kissing scenes as a rule tend not to be that good. "Whenever you do that with someone, it's so fake. They're getting paid to kiss you and I'm getting paid to kiss her. But she's a doll," he said.
Baldwin, who plays GE exec Jack Donaghy on the Emmy-winning NBC show, said he appreciated Aniston making time for the appearance.